Presentations
David Lim knows something about leadership and resilience.
In 1998, he made history as leader of the 1st Singapore Mt Everest Expedition. The landmark climb captured the nation's imagination about the art of the possible, and ignited the need for calculated risk-taking, courage and imagination in the flat, tropical island nation of Singapore.
A week after his triumphant return from Everest, he was struck down by the rare nerve disorder, Guillain Barre Syndrome, and paralysed completely from eyes down. Spending six weeks on a ventilator and six months in hospital, he emerged permanently disabled from the ordeal. He regained his life through sheer will and focus, and made a successful return to the great mountains. David's breadth of audience engagement skills include keynote speaking, virtual sessions (including sessions for Intel's national convention in the USA, Singapore Telecom and others), group facilitation and team development work.
WHY CHOOSE DAVID FOR YOUR MEETING?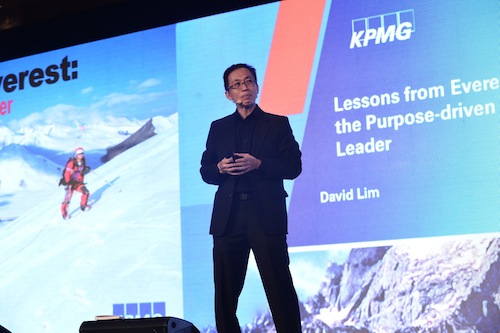 (above: David delivering key leadership lessons for 500 leaders from KPMG China)
BREADTH OF EXPERIENCE:
David delivers presentations on leadership, motivation and overcoming obstacles, and is founder of Everest Motivation Team.
He is a sought-after international motivational speaker and has addressed hundreds of audiences of up to 12,000 people, and regularly clocks up 50 engagements annually, half of those being international assignments. These include adding value to:
Partner / distributor events
Global virtual/Zoom/Skype learning events
Sales, annual and divisional kickoffs
Global congress keynotes e.g the 2005 Project Management Institute and 2007 Visa Global Congresses
Corporate retreats
Evening / dinner / luncheon presentations
Regional business conferences
Incentives and reward meetings
Since 1999, David has delivered exciting, content-rich motivational presentations in over 33 countries and 75 cities worldwide. Recently, he delivered paid solutions in Bali, Budapest, Guangzhou and in many more destinations.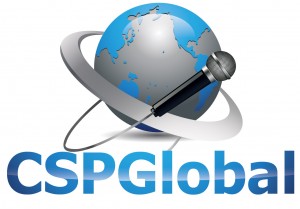 David is the first Singaporean to receive the Certified Speaking Professional(CSP) designation, the highest accreditation that any of the 6000 members of the Global Speakers Federation can receive. That there are fewer than 12% of these who are CSPs is a reflection of the consistent quality and professionalism CSPs bring to the industry, as well as the high standards required to received the designation. Meeting planners, speakers bureau and event organisers can be assured of a top level presentation, as well as the lead up to the event. David also received the CSPGlobal designation (know called the Global Speaking Fellow) for his global practice. The credential has been awarded to fewer than 30 of professional speakers worldwide, who must also have the CSP designation as a pre-requisite.
CONTENT
He delivers a timeless message of overcoming the odds, the need for passion, inventiveness and perseverance. His most popular keynote presentation, Lessons From Mt. Everest, has been described as "world-class". Depending on the presentation focus, you will learn about:
Creating a shared success vision
The Wake Up Test of personal values
Why change is hard, and you can lead change
How to set goals, and get them
Create a winning culture at work
The 1% Rule at improving
Overcoming enormous odds
Doing more with less; having the Alpinist Attitude
The Five 'C's choosing the right people and the right team
STYLE
David has a breezy style, with plenty of humour that works with international audiences. Using a number of interactive tools that engage and entertain audiences, his presentations not only involve the telling of stories from which we can learn life's greatest lessons, but will show us what we need to do to succeed; sometimes in disruption or a hostile environment.  Audience interaction, emotional engagement, humour, stunning visuals, videos, and a powerful call to action are hallmarks of David's presentation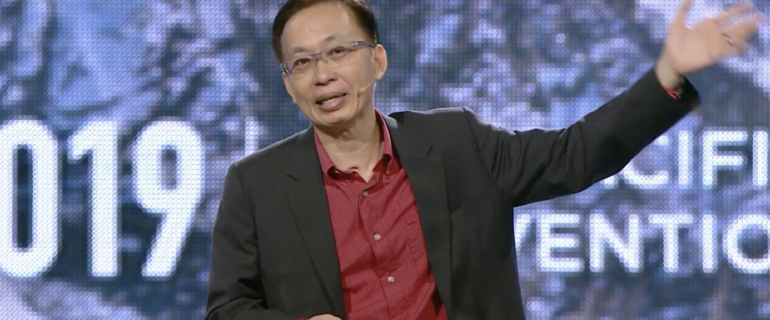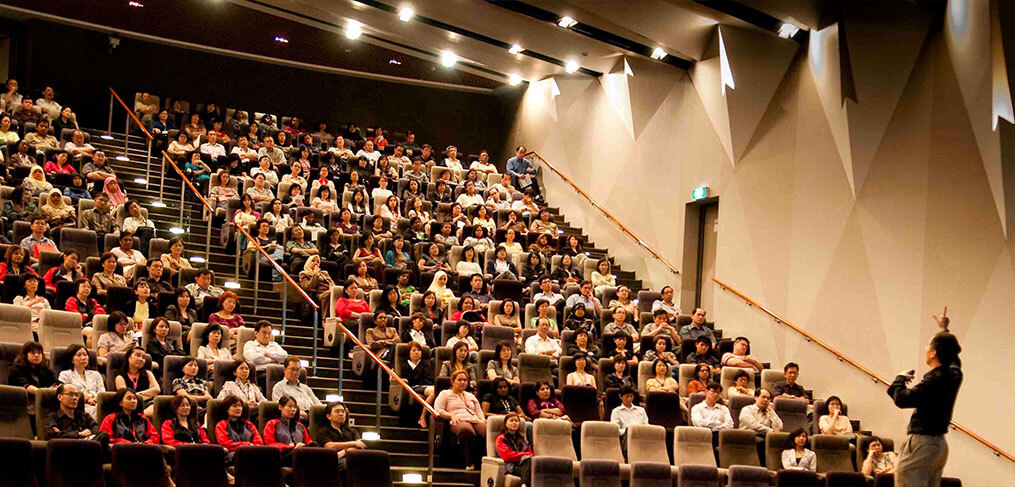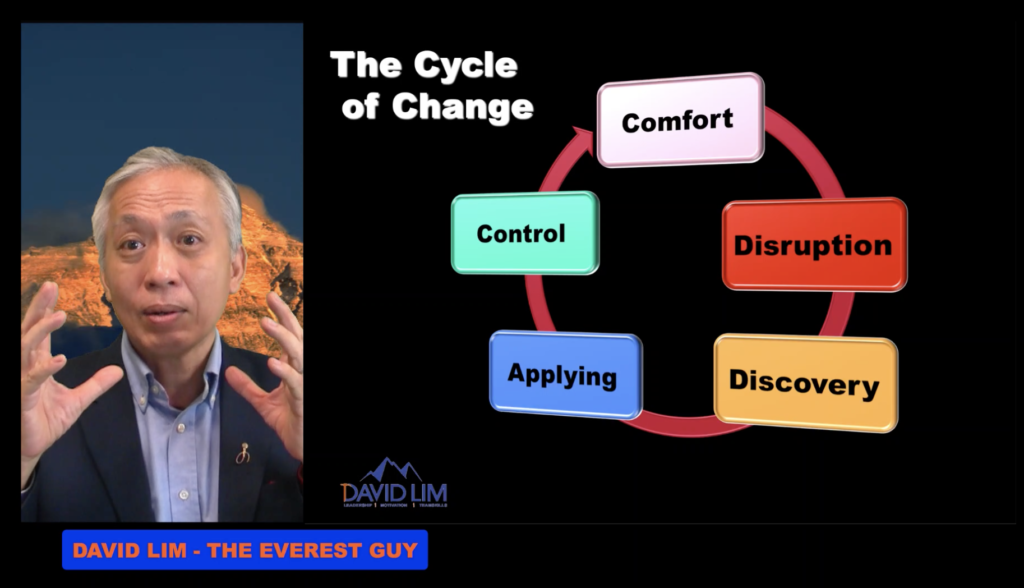 CLIENTS
Walmart, Google, Linkedin, Lego, McKinsey & Co., Chevron, Shell, BP, AXA, AIA, UBS, Standard Chartered Bank, INSEAD Business School, Prudential, Citibank, Novartis, TATA Motors, Ministries of Manpower, Defence and Education (in Singapore), and many more.
---
OUR FEES
Reading the information below will help you make an informed decision about not only our services, but that of any other professional speaker, content expert or seminar producer.
Speaking fees 2020-21; and an explanation of how our fees are positioned:
Speaking fees vary depending on what you require but range from SG$10,500 – SG$18,000 for a 60 – 90 minute keynote or presentation. This is approximately USD$8000 – USD$13,500. Virtual sessions can also be negotiated and fees will depend on context, outcomes and content required.
A specific fee depends on a number of factors. and in no particular order, these are:
impact and outcome desired
amount of background work and preparation, including, but not limited to pre-event meetings, customisation, conference calls, adjustments to content, fresh research, inclusion of our proprietary research, and related materials
location of event i.e. travel/transit time involved
materials, if packaged with presentation
fee acceleration (fees paid upfront may receive a better rate)
packages (see more below) combining David's keynotes with additional learning solutions like a team development or team-building session on the same day; or multiple bookings in a given timeframe
Remember, you are not paying for 'an hour' but for an experience that includes:
improving the emotional buy-in of your conference messages;
improving the overall energy flow of your meeting; and
lessons some of your audience will recall more than a year later.
How do I get a quote for a presentation?
We can send you a proposal and fees AFTER we get greater clarity of what you need. Don't ask us" how much is it for a one-hour keynote" – because we can't quote meaningfully until you let us know, among other things the following:
Why is this group meeting, and where?
If this is a regional/global virtual session, what are your preferred platforms that are workable with possible constraints?
When is the group meeting and when is the programme likely to be required?
What are the overall meeting objectives?
What is the value-add that we will bring to the meeting in the form of a keynote, presentation or programme?
What is the profile of the people attending, and how many people will be attending?
What challenges are these people facing and will face in the next 12 months?
What information do you think is valuable for us to understand and absorb before we quote appropriately
If you want the best price, let's start by getting the above-mentioned information. You don't go into a tailor's shop as ask " how much for a suit" do you? You'll need to get clarity as to the purpose of the suit (wedding? job interview? daily use?), the materials you want, the additional touches to it, the cut and fit. Similarly, we like to know more about you and your needs before quoting. And yes, when we ask you "what kind of budget range are you working with?" – it's not a negotiation strategy. We do not want both of us to waste our time if the gap between where you are, and where we are is too wide. In addition, we would be delighted to refer your needs to an associate or another speaker who might be a better fit for you. No charge, no obligation.
Retention:
Think about the last time you heard a presentation, after which you could remember key points a day or a year later. David has received testimonials from audience members up to TWO years after his presentations saying how the messages inspired them to achieve the Million Dollar Round Table credential in financial services, or helped them complete their MBA. Our longer term team improvement programmes have obtained excellent, quantifiable "return-on-investment' in terms of improved team mindsets and behaviours.
Quality:
You are also paying for more than 15 years' of expertise, and quality delivery, as reflected by David's credentials which include his being the first Singaporean to earn the Certified Speaking Professional (CSP) credential. The CSP is an independent audit of a speaker and a speaker's business, quality and content, and awarded by two of the largest professional speaking bodies in the world.
Only a dozen topic experts in Asia, and fewer than 12% worldwide (amongst 6000 members of the Global Speakers Federation) are CSPs. In Dec 2013, David was awarded the Global Speaking Fellow credential, for his globalised practice and business, joining fewer than 35 CSPs worldwide who have earned the accreditation.
With David, you are in safe hands.
Another two points to note about getting speakers to speak at your event is this:
How often do they speak and engage with audiences over a short period of time like a keynote?
To what extent do they have any expertise in areas such as coaching, organisational development or such content expertise quite apart from their (often) non-business achievements in sport, adventure and so on?
The challenges to engage an easily distracted audience for 60 minutes are quite different from those who mainly train (versus keynoting) all year round. Many workshop leaders claim to be able to deliver a typical one-hour keynote for you, but in reality, only do so a handful of times each year. Just ask them! Are you just looking at an "achiever" to share his/her story; or someone like that AND who can also connect their lessons expertly to the unique challenges of your audience?
David has delivered more than FIFTY paid presentations a year in the past decade in addition to his other work.
Value:
Getting a 'cheap' speaker may not get anywhere close to your event outcomes. After all, you are not buying an "hour". You want to create a specific impact or learning outcome from the speaker. A quality, experienced, credentialed speaker who may cost double the fees of another less mature, less experienced speaker may well be worth it. Why? The former speaker may well achieve 100% of all your goals and outcomes for the time he/she spends at the event; the latter may miss the mark completely. Think for a moment – if you have 300 people listening to tired, old, boring, irrelevant content for an hour, you have just wasted 300 hours of that organisation's time. How much is that worth to you if you are the organiser or stakeholder? Some recent considerations have included the extent to which the presenter has delivered or has experience delivering virtual (if not 'live') programmes?
David has delivered webinars to groups as large as 150 for clients like Singapore Telecom, as well as longer, virtual in-depth programmes for more modest, workshop sized groups of global participants since 2011 (!)
Getting the Right Fit
If you are looking for a speaker for fill a 'slot' during a day, then it is unlikely we are a right fit for you.
If you are looking for a hire a speaker for a fee based on a proportion of his day rate, it is unlikely we are a fit for you.
However if you are looking for a speaker who works at delivering a specific outcome that improves some aspect of your audience, shifts their thinking in a different direction, achieves one powerful , specific goal without a data dump, then speak to us about your needs.
One of our most requested packages include bundling one of David's presentations together with learning aids such his books and/or a team development session. Clients just like you have said these packages give tremendous value in terms of providing a seamless experience; tying in facilitated experiences debriefed for workplace applicability, as well as receiving the emotional charge from the presentations. Otherwise, you get challenged when combining a speaker, a teambuilding session and a facilitated top management forum, where disparate styles, content and focus makes it hard for the event to stay 'on message'.
A presentation combined with learning aids or extensions like books or CDs or an email-based weekly subscription to a high value skills-based programme
multiple runs of the same presentation and content delivered within a year at multiple occasions
a package comprising a keynote, and a workshop on the same day, or consecutive days
a train-the-trainer programme where products, skills, or even a tool (see our Everest Challenger® team and leader development simulation) can be obtained for your organisation's benefit, and lower, long-term costs where your own staff deliver a solution after our training and facilitation, and guidance. Everest Challenger® has been licensed in 13 countries in six continents; to clients such as FEDEX's Global Leadership Institute, The Boy Scouts of America, The University of Georgia(USA), University of KwaZuluNatal (South Africa), and many more.
Workshops, teambuilding, and multiple-day programmes
Delivered by David exclusively, and/or delivered by his team of associates from Everest Motivation Team Pte Ltd, these range from team development and teambuilding, leadership programmes for specific learning outcomes. Ranges: SG$2500, and upwards depending on group sizes, materials, outcomes intended and who may be delivering the programme on the actual day. A high-content programme like our Negotiating to Win™ programme starts at SG$10,500 per day.
Are you ready to contact us now?
Tell us about your needs

[ David rocking the stage at USANA's Asia Pacific Convention with 7000 in the room]